Berlin Wall Eastside Gallery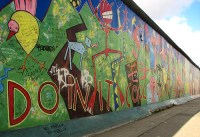 The remains of the infamous Berlin Wall have now become the largest open-air art gallery in the world. The longest section of the wall, which has been preserved, stretches from Ostbahnhof station to the Oberbaumbrucke, and has been given over to graffiti artists from around the world. About 118 artists from 21 countries have demonstrated their skills on the 4,318 foot (1,316m) long section of the wall, and this collection has become a Berlin landmark and a tourist attraction. Some of the best known paintings are Dimitri Vrubel's 'Brotherly Kiss' and Gunther Shaefer's 'Fatherland'. The gallery is billed as an international memorial for freedom and the art reflects the idealism and excitement of 1989 and 1990 when the wall was pulled down.
Parts of the wall have been or are being restored to reverse the damage done by time, weather and vandals because some of the once colourful murals created in 1989 and 1990 are now very faded. The images are restored in most cases by the original artists themselves and this ongoing project of restoration is special in itself because it keeps the wall alive in the public imagination.
Address: Mühlenstraße
Website: www.eastsidegallery.com
Admission: Free