Groeninge Museum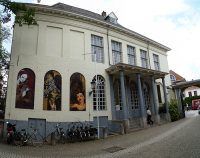 Groeninge Museum © Zooey
Considered one of Bruges' best museums, the Groeninge Museum houses a large collection of fine art going back to the 15th century, including works by famous Flemish painters Jan van Eyck, Hieronymus Bosch, Rogier van der Weyden and Hans Memling.
Though some of the works are from recent years, the museum's collections focuses exclusively on works with classical techniques, and has some beautiful pieces. for fans of classical art and those wishing to gain an insight into Belgiana and European life in the past, this is a museum not to be missed.
Address: Dijver 12
Website: bezoekers.brugge.be/nl/groeningemuseum
Telephone: 050 44 87 11
Opening times: Tuesday to Sunday 9:30am-5pm.
Admission: €8; concessions available.