Heritage Park Historical Village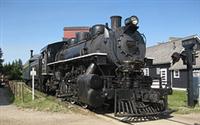 Heritage Park Historical Village © Phil Whitehouse
Heritage Park is a village of living history, comprising more than 180 exhibitions that attempt to show what life was like in Alberta in the 19th and 20th centuries. Set on 127 beautiful acres of parkland and located just 15 minutes from Calgary's central business district, Heritage Park makes for a worthwhile daytrip, especially if you have kids in tow.
Highlights include steam train rides and an impressive collection of vintage automobiles. Thousands of genuine historical artefacts have been used in the creation of the park, while other buildings and scenes have been faithfully recreated. Costumed interpreters educate and entertain visitors, bringing history to life.
Address: 1900 Heritage Drive Southwest
Website: www.heritagepark.ca
Telephone: (403) 268 8500
Opening times: Monday to Friday 10am-5pm, Closed Saturday and Sunday.
Admission: Varies according to season. $26.50 for general admission. Other concessions available.