Upper Rock Nature Reserve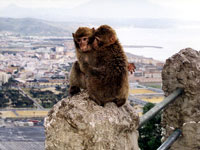 Barbary Apes © Gibraltar Tourist Board
The main attraction for most visitors to Gibraltar, the northern face of the Rock of Gibraltar has been set aside as a nature reserve that will delight botanists and bird-watchers. The most famous inhabitants of the Upper Rock are of course the cheeky Barbary Macaque apes, mischievous primates who delight in stealing bags, cameras and other items from tourists. The macaques are most concentrated around the Apes Den, and visitors are warned not to take food into the area.
There are several points of interest in the Upper Rock Reserve, including the impressive rock formations in St Michaels Cave, the Jews Gate, and military Siege Tunnels left over from World War II. There are many hiking and walking paths throughout the reserve of varying difficulty.
Visitors to the Upper Rock get to the reserve by cable-car, which offers stunning views along the way, extending from Spain to the north to Africa in the south. Visitors should note that there are separate entrance fees for various sites, including the Apes Den, St Michaels Cave, and the Siege Tunnels.
Opening times: Cable cars run from 9:30am until 5pm.
Admission: A cable car ticket including entrance to the Apes Den is £8, while a ticket that includes St Michaels Cave and ths Siege Tunnels is £16.