Kaieteur Falls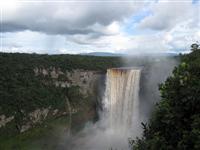 Guyana's main tourist attraction is the hugely impressive Kaieteur Falls, the world's highest free-flowing waterfall. Kaieteur has a sheer drop of 741 feet (226m), and is 822 feet (251m) high. At the peak of rainy season the falls stretch 400 feet (122m) across. Approaching the falls on foot, once can hear a roaring thunder as up to 136,200 litres per minute of tannin-stained waters plunge to the river below.
Kaieteur is probably the most exciting of the world's great waterfalls - Niagara, Victoria , Angel and Iguazú - yet is easily the least visited and commercialised. It's remote location certainly enhances the experience: set in lush, verdant, ancient jungle, you are likely to be the only people there. This is nature at its most beautiful and powerful, providing a thrilling and memorable experience for those that make the effort to get here. Around the falls there is abundant bird life - look out for swallows nests under the falls - plus rare frogs and the elusive bush dog.
Get there from Georgetown via either a multi-day hike or a 1-hour flight. Roraima Airways offers scheduled flights on certain days of the week, although many visitors opt to charter a plane; the cost is much the same. Once there, a ranger will guide visitors around the falls, so pack sturdy shoes and beware sheer drops as there are no guard rails.