Aegina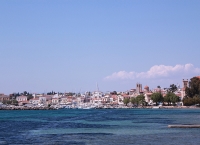 Aegina © Tarek
Aegina is the closest Saronic Gulf Island to Athens, and as such has become almost a suburb of the city offering cosmopolitan shops, restaurants and accommodation. The ancient rivalry between Aegina and Athens is famously recorded in Herodotus, which demonstrates what a formidable ancient power the island was, particularly in its maritime strength. The island also has a rich mythological tradition: it is named for Aegina, who was abducted to the island by Zeus to bear him a son; it was also the traditional gathering and training place of the Myrmidons, the elite fighting unit led by Achilles.
Aegina boasts a few cultural attractions, like the well-preserved Temple of Aphaia and the monastery at Agios Nektarios, as well as some wonderful beaches. The pretty towns of Paleohora and Perdika offer a small-town break on Aegina, though they are likely to be busy as well, especially in the peak summer months, when tourists flood the island. An extinct volcano constitutes two thirds of Aegina and the southern part of the island is mountainous with rugged ridges that rise between fertile valleys; the island produces grain, wine, almonds, olives, figs and pistachio, among other things.
Ferries from Piraeus take between 40 minutes and an hour to reach Aegina.