Aegina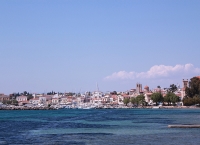 Aegina © Tarek
Aegina is the closest Saronic Gulf Island to Athens. As such, it's almost one of the city's suburbs, offering cosmopolitan shops, restaurants and accommodation.
Formed largely from an extinct volcano, the island was once the training place of Achilles' elite fighting unit, the Myrmidons. Today, it boasts a buffet of cultural attractions. The well-preserved Temple of Aphaia and the monastery at Agios Nektarios are time-honoured favourites. Visitors also enjoy the pretty town of Perdika, though it's likely to be busy during peak season.
By ferry, the rugged island is around 40 minutes away from Piraeus port, and is a wonderful setting for seaside holidays.