Hong Kong Museum of Art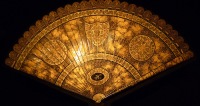 Hong Kong Museum of Art © Christopher Luna
Established in 1962 and originally housed in the City Hall, the museum was moved to its current, purpose-built location in 1991. The Hong Kong Museum of Art's five permanent galleries have a large collection of ceramics, cloisonné, bronzes, lacquerware, bamboo carvings, jade, and textiles, as well as beautiful scrolls and examples of calligraphy. While it isn't the biggest art museum in China, the Hong Kong Museum of Art, conveniently located on the Tsim Sha Tsui waterfront, is a great place to visit if you want a taste of Chinese art history on a limited schedule as you can see much of the collections in about an hour. There is also a gift shop and a cafe.
Another branch of the Hong Kong Museum of Art is the Museum of Tea Ware, located in a grand old house in Hong Kong Park. It is an interesting place to visit for those captivated by the finer points of one of China's most refined traditions. The Greek revival architecture and decor is typical of the colonial British buildings of over 160 years ago, and houses more than 600 examples of traditional tea ware, ranging from earthenware to delicate porcelain and dating back to the 7th century. Also described are the methods of tea-making and elaborate tea ceremonies that revolve around the beautiful pieces. The museum shop has a good selection of tea ware to take home with you. The whole museum is rather small, and can be seen in under an hour.
Address: Art Museum: 10 Salisbury Road, Tsim Sha Tsui, Kowloon. Tea Museum: 10 Cotton Tree Drive, Central, Hong Kong.
Website: hk.art.museum
Telephone: (852) 2721 0116
Opening times: Art Museum: Monday to Friday 10am to 6pm, Saturday and Sunday 10am to 7pm, closed Thursdays.
Admission: Art Museum: HK$10, concessions available; free admission on Wednesdays. Tea Museum: free.