Potsdamer Platz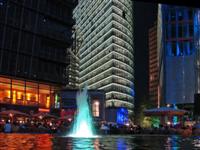 This vibrant square at Potsdamer Platz is the heart and soul of the 'New Berlin', which has emerged since the fall of the wall in 1989. The original square was once one of the busiest junctions in Europe with a major train station situated on it. However, after damage during the Second World War and being cut through by the divisive wall, it became a decayed wasteland. Since the fall of the wall, however, a building boom has been taking place around the Potsdamer Platz, which now boasts an exciting mix of restaurants, shopping centres, hotels, a casino, theatres and cinemas that draws both Berliners and tourists seeking good food and recreation. The focus of the square is the 22-storey Debis Haus, designed by Renzo Piano, featuring an atrium with cathedral-like dimensions, and its neighbouring Potsdamer Platz Arkaden, a shopping mall with an Imax cinema. The Sony Centre is the most recent addition, consisting of seven buildings around a light-flooded arena, which also houses Berlin's popular Film Museum. The Kollhoff building features a panorama platform, reached by Europe's fastest express elevator, which offers views of the city.
Website: www.potsdamerplatz.de
Opening times: The panorama platform is usually open daily, 10am to 8pm.
Admission: Panorama platform: €6.50; concessions available