Sidemen Valley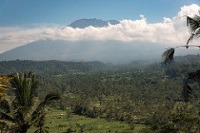 Sidemen Valley © Keith Yahl
A typical Balinese village tucked away in a lush green valley, Sidemen is a popular excursion on Bali for tourists looking for peace and quiet. Terraced rice paddies lie under the shadow of a volcano, which offers good opportunities for hiking. Other active pursuits in the valley include cycling and whitewater rafting.
The village of Sidemen is known for its skilful weavers, who make the intricate silver-and-gold songket fabric used in traditional weddings. The Pelangi Workshop allows visitors to watch the weaving process, and there are several shops in town to buy songket fabric along with other souvenirs.
One of the most pleasant activities for those who want a relaxed break is strolling through the rice paddies and exploring the enchanting scenery of the valley. Most of the hotels have basic maps to give visitors and there are some beautiful little temples hidden in the countryside. Getting lost round here is a joy. There are some hotels and restaurants to cater to tourists but there are no real banking facilities and only limited internet access. Sidemen is a truly wonderful place to visit if you want to experience a quiet, traditional village, and it is worth spending at least one night to experience the surroundings. Many choose to spend more than that.