Nkhotakota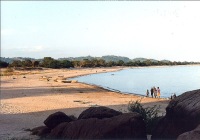 Mwaya Beach © JackyR
A small and basic town on the shores of Lake Malawi, Nkhotakota has a traditional market and a few hotels and bars, but the main attractions for travellers are in the surrounding region. The Nkhotakota Wildlife Reserve has hot springs and hippo pools.
The beaches of Lake Malawi offer activities like kayaking, snorkelling, and cruises, making Nkhotakota a good base for tourists wanting to explore the area. For those wanting to brush up on their handicap, the Kasasa Club in Nkhotakota has a golf course.
Nkhotakota played an important part in Malawi's history as the place where David Livingstone met with slave traders in an attempt to end the slave trade in Malawi, and knowledgeable guides conduct walking tours of historical points of interest.