Nkhata Bay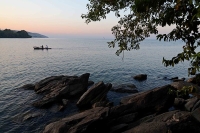 Nkhata Bay © Geoff Gallice
Nkhata Bay is a busy fishing village on the shores of Lake Malawi, near Mzuzu. The town is well-placed for tourists to take advantage of the beaches at Chikale, where they can kayak, take day cruises, or dive and snorkel.
The diving schools in Nkhata Bay are famously cheap but quality varies so it is best to get recommendations beforehand. Other attractions in Nkhata Bay include tours of the Kawalazi coffee plantation and Chombe rubber and tea plantations, or hiking up the cliff faces to watch the fish eagles feeding.
There are a few craft markets in Nkhata Bay, and some bars and restaurants serving Malawian pizza and freshly caught fish. Nkhata Bay is the second busiest resort area on the lake, easily accessible by Malawian standards, and well-equipped for travellers, with a variety of accommodation being available.