Amber Mountain National Park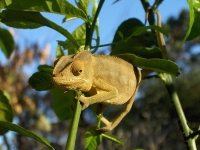 Chameleon © LyWashu
Madagascar's most famous park, Amber Mountain (Montagne d'Ambre) National Park is known for its array of colourful orchids found exclusively on the island. Located in the northern part of the island, the mountainous park is predominantly tropical rainforest. The altitude and lush vegetation makes it pleasantly cool compared to the surrounding lowlands. Animal lovers will delight in the unusual animal species that inhabit the park like the blue-nosed chameleon and seven different kinds of lemur. The park is also a treat for bird lovers, with 75 different bird species, 35 of which are endemic. There are many waterfalls and some beautiful volcanic lakes to hike to. The trek to the Sacred Waterfall (Cascade Sacree) is one of the most popular.
Amber Mountain is one of the most accessible parks in Madagascar, with comparably good infrastructure including wide trails and camping areas as well as an in-park lodge. However, electricity is not always available, and the nearest banks and medical facilities are several hours away in the town of Antsiranana. The tracks and landmarks are well-maintained and signposted, making it easy to explore the park without a guide. In fact, it is the only park in the country where tourist can visit without the compulsory assistance of a guide.
The best time to visit the park is between September and November, when the animals are at their most active and are most easily observed.
Website: www.travelmadagascar.org/PARKS/Amber-Mountain-National-Park.html
Telephone: +261 20 22 415 54