Valley of the Temples (Valle dei Templi)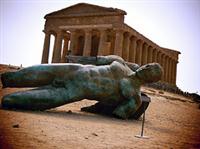 Although not technically a 'valley' but rather a ridge located just outside the Sicilian town of Agrigento, the Valley of the Temples (Valle dei Templi) is one of Italy's oldest and most interesting archaeological sites. Declared a UNESCO World Heritage Site in 1997, the Valley of the Temples is filled with some of the most outstanding examples of Magna Graecia architecture in the whole world. The Doric-styled structures, built in the 5th century BC, are dedicated to gods and other mythological characters, including, quite rarely, an imposing structure dedicated to Vulcan. There are also some fascinating commemorative structures, built in celebration of Rome's victory over Carthage, and in memory of Roman soldiers who were killed in the Second Punic War. In the tradition of Greco-Roman architecture of the period, all the structures face east to be illuminated by the rising sun. The 'valley' is actually divided into two distinct sections: the Hill of Temples and, on the other side of the parking lot, another grouping of temples including the Temple of Zeus, but the admission charge covers everything. A must-see tourist attraction in Sicily, the site of the Valley of the Temples commands great views of Agrigento and makes for a wonderful half-day adventure.
Opening times: Open daily 9am to 7pm.
Admission: €10, concessions available.