Greenwood Great House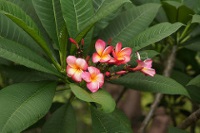 Frangipanis in the Greenwood Great House garden © Tatters
The Greenwood Great House was built between 1780 and 1800 and is generally regarded as 'the greatest' of Jamaica's Great Houses. It was the residence of Richard Barrett (cousin of renowned poet Elizabeth Barrett Browning) - who is said to have presided over 33,600 hectares and 3,000 slaves. The Greenwood Great House stands as testament to both the grandeur and cruelty that the British brought to the Caribbean.
Greenwood has not undergone extensive renovations, and appears to modern-day visitors largely as it was inhabited. A tour of the House will take in the Barrett's original library (home to some astonishingly rare books), some sombre oil paintings of the family, some fine antique furniture and a collection of unusual musical instruments.
Described as 'the finest antique museum in the Caribbean', an excursion to the Greenwood Great House is highly recommended for visitors to Montego Bay interested in the colonial history of the island. Guided tours are the only way to explore the house and they last about 30 minutes.
Website: www.greenwoodgreathouse.com