Rocklands Bird Sanctuary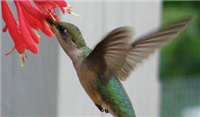 An extremely popular Montego Bay tourist attraction, and an absolute must for bird-lovers, the Rocklands Bird Sanctuary offers visitors the chance to get up close and personal with the island of Jamaica's wide variety of colourful birdlife. Founded in 1954 by Lisa Salmon (affectionately known to locals as 'the bird lady'), these days the Rocklands Bird Sanctuary is managed by the knowledgeable and charming Fritz, a man who (by all accounts) is blessed with an almost St Francis-like gift for beckoning birds down from the surrounding boughs. The highlight of the trip is the opportunity to hand-feed hummingbirds - including the Doctor Bird, Jamaica's national bird - while relaxing in the shade on the Sanctuary's patio. These beautiful birds are tiny, with gem-like colouring, and they perch on your finger to drink sugar water from a bottle you offer them. The sanctuary is lush and full of plants and flowers so apart from the bird sighting opportunities it is a lovely place to wander off for a nature walk. Although the sanctuary is close to Montego Bay, the roads get quite bad near the end of the trip and some people prefer to travel with a tour so that there's an experienced driver behind the wheel.
Address: On the road to the village of Anchovy
Opening times: Open daily from 2pm to 5pm
Admission: US$20 per person.