White River Valley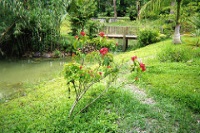 White River Valley © Sierra C. Photography
Just seven miles (11km) from Ocho Rios, lies the scenic and wonderfully relaxing White River Valley. A green, lush area, with the susurrus sound of the river mixing with birdsong in the air, the White River Valley has something for tourists of every persuasion.
Most popular among the activities on offer is a three-mile (5km), 45-minute tube ride down the river. There are a few exciting rapids but mostly it is just a relaxing float down the river through stunning scenery. It's a very safe excursion and suitable for all ages making it a great family activity. Bring some insect repellant in case you are pestered by bugs, and if you have water shoes they are a bonus because the river is rocky - you can get by without them though. Adventurous tourists can also enjoy zip-lining, forest walks, bird-watching and more in the valley. On Tuesday and Sunday nights, you can sign up for an 'Exotic Night on the White River', where flaming torches create the perfect ambience for a romantic dinner by the riverside (served with local wine).
The White River Valley is also home to a Reggae Park - a music venue predictably popular among local music enthusiasts. It is a beautiful scenic area with lots on offer, and a popular excursion for cruise passengers.