Coyaba River Garden and Museum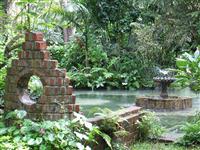 A wonderful tourist attraction for those who like to stir some culture into their beach getaways, the Coyaba River Garden and Museum is an interesting and enchanting way to spend a couple of hours while on holiday in Ocho Rios. The museum - named after the Arawak word for 'paradise' - houses some important pre-Columbian artefacts and has exhibitions detailing the history of Jamaica, from the days of its original inhabitants the Arawaks, through the trials of colonialism, to the gaining of independence in 1962. Jamaica's history is fascinating and this is one of the few popular attractions that documents it well.
There is also a reward for those visitors who make the effort to learn about the country's history because the incredible tropical gardens at the museum are a wonderful surprise. In fact, they are arguably the biggest attraction and possibly draw more visitors than the historical exhibits. The gardens are home to the gently-cascading Mahoe Falls. A lush, steamy garden complex, dotted with giant banyan and cedar trees, and natural springs and pools filled with koi fish and turtles, the Coyaba Gardens make for a wonderful daytrip for the entire family. If you bring along your swim suits you can climb the waterfall, which is particularly fun for kids. There is also a gift shop on site, where you can buy some choice local products such as carved figurines, coffee and rum.