Houey Hong Vocational Training Center for Women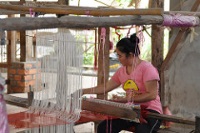 Houey Hong Vocational Training Center for Women © Shankar S
In recent years, the Houey Hong Vocational Training Center for Woman has been among the most popular tourist attractions in Laos. The centre's mission is to provide training and education for Lao women from disadvantaged backgrounds. Ultimately, the institution helps them transition into the contemporary economy by teaching them skills such as natural dyeing, traditional Lao weaving, tailoring and small business administration.
Visitors are not just casual observers. Instead, they partake in half-day or full-day courses of their choice, and are taught skills ranging from tie-dyeing silks to traditional Lao weaving with a loom.
The Houey Hong Center is a short tuk-tuk ride from downtown Vientiane and offers tourists an unforgettable experience of traditional textile manufacturing. Visitors keep whatever items they make, meaning they leave with special souvenirs.
Address: Lane 22, Houey Hong Village, Chantabury District, Vientiane
Website: www.houeyhongvientiane.com
Telephone: +856 21 560006
Opening times: Monday through Saturday: 08.30am - 12.00pm, 1.30pm - 16.30pm