Olympiapark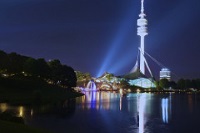 Olympiapark © Ole Pophal
Munich's massive Olympiapark complex was constructed for the 20th Olympic Games in 1972, but remains a marvel of modern engineering. Its main stadium is like an enormous tent, which can seat close on 70,000 spectators, and is topped by the largest roof in the world, extending for 720,000 square feet (66,890 sq metres) and made of tinted acrylic glass. The roof collects rainwater which is used to fill the adjacent Olympic lake. Tent roof tours (with or without an abseiling option) are on offer. Visitors to the site can enjoy a spectacular view from the revolving restaurant and observation terrace which tops the 950-foot (290m) high Olympic Tower. Near the tower is the BMW Museum, which displays the history of Germany's famous automobile manufacturer and is in itself a popular attraction. Far from being a remarkable 'white elephant', the Park is still in constant use not only by tourists but by locals who use it as a lively leisure and recreational centre in the city; on more than 200 days of the year it is the venue for rock and pop concerts, sports events, exhibitions and trade fairs. Check the website to see what's happening at the venue during your stay.
Address: Spiridon-Louis-Ring 21
Website: www.olympiapark-muenchen.de
Opening times: Open daily 9am to midnight.