Ho Phra Kaew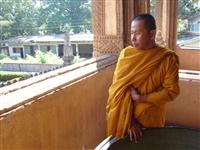 Monk at Ho Phra Kaew © Tevaprapas
One of Vientiane's oldest and most grandiose temples, Ho Phra Kaew has an extremely interesting history that sheds light on Laos' past relations with Thailand. The temple was built in 1565 by King Setthathirat for the express purpose of housing the Emerald Buddha, which he had pilfered from Chiang Mai in Thailand. The statue, made of green jadeite enrobed in gold, was then recaptured by the Siamese army in 1778 and returned to Bangkok (where it remains to this day). Even without the Emerald Buddha, Ho Phra Kaew - which was restored in 1936 and declared a national monument - is a wonderful tourist attraction, offering visitors to Vientiane a great opportunity to get to grips with Laos' varied cultural heritage. Among the items on display in the museum is a heavily-lacquered 16th-century door carved with Hindu images, and a collection of stone-cut figures representing Khmer deities. Note that although the temple houses some interesting artefacts the labels explaining their origins are only in French and Lao so it is worth doing some research beforehand if you don't speak these languages.
The temple is near the town centre and has a lovely garden. Photographs are permitted. There is a small entry fee.
Address: Rue Setthathirath, Vientiane
Opening times: Daily: 8am to 12pm; 1pm to 4pm.