Talat Sao (Morning Market)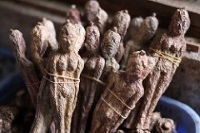 Talat Sao © yeowatzup
Vientiane's Talat Sao (Morning Market) has two decidedly different sections. Depending on their budget and the type of experience they're looking for, visitors can choose between the shopping mall and the original Morning Market. The mall has a range of shops and services over five floors, and its air-conditioning provides a much appreciated break from the country's tropical heat. Shoppers will find a food court, a cinema, a supermarket and a children's play area in the complex. Clothes stores stock practical rather than cutting-edge-fashion items; naïve travellers have unwittingly bought replica electronic products in the past. The bustling market operates from early morning to mid-afternoon, and is a labyrinth of clean, tiled alleyways. Shoppers can expect an authentic experience, with vendors coming from all over Laos to sell and source goods. Hand-woven fabrics, silver jewellery and other local handicrafts are favourite purchases. Bargaining is expected and generally good-natured, so tourists should remember to smile while trying to beat down a price.
Address: Talat Sao Mall, Lane Xang Avenue, Vientiane
Telephone: +856 21 285 001
Opening times: Monday to Friday: 7am to 6pm (some stalls may close earlier).