Talat Sao (Morning Market)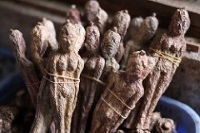 Talat Sao © yeowatzup
Sometimes while travelling it's nice to take a break from visiting the usual tourist attractions and to experience the country as the locals do. Vientiane's Talat Sao (Morning Market) offers visitors the chance to do just this, with a bustling market-place that, despite its name, is open from 7am to 6pm every day. A wonderful place to do most of your holiday shopping in Laos, the Morning Market is housed over four floors in two Lao-style buildings, whose construction was largely paid for by the market vendors themselves. Although the market mainly caters to the local population (one can buy electric rice cookers and have shoes re-soled here), there are still plenty of authentic Lao products for tourists to snap up for a bargain. Be on the lookout for hand-woven fabrics, silver jewellery and local handicrafts. Bargaining is expected and generally very good-natured so be sure to smile, but don't be shy to beat down a price. There are also food stalls located right outside the buildings, allowing visitors to refuel between shopping expeditions. For those familiar with the sprawling markets of places like Thailand and Malaysia, this one may seem small and unimpressive, but for the uninitiated it is exciting.
Address: Talat Sao Mall, Lane Xang Avenue, Vientiane
Telephone: +856 21 285 001
Opening times: Monday to Friday: 7am to 6pm (some stalls may close earlier).