Azure Window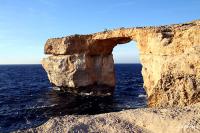 Azure Window © Lju Photo
One of Malta's most picturesque sites, the Azure Window is a distinctive rock formation that forms a large arch over the brilliant blue waters of the Mediterranean Sea. Formed when several enormous caves collapsed, the arch has been featured in several films, including the 1981 Ray Harryhausen epic Clash of the Titans, the 1997 miniseries The Odyssey, and the 2002 film The Count of Monte Cristo. Located in Gozo, near the tourist village of Dwejra, the Azure Window is a popular scuba diving site in Malta, although tourists are no longer allowed to walk across the arch due to erosion. In fact, the site is considered in danger of falling apart altogether, in which case the laid-back Maltese are prepared to rename it the Azure Pinnacle.
This stretch of coastline also boasts many secluded pebbled bathing pools and crystal clear water; swimming here is exciting because the strange rock formations have formed lovely little pools. It is known as the 'inland sea' and provides the enjoyable experience of diving into the 'blue hole' near the Azure Window. It's most famous formation is Fungus Rock, which was apparently heavily guarded during the era of the Knights of Malta because a special plant with healing properties grew upon it; stealing the plant was liable to earn the thief the death penalty.
Address: Dwejra can be reached on bus 1 or 2 from Victoria.