Hezekiah's Tunnel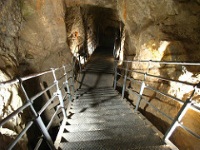 Hezekiah's Tunnel © Morgan Levy
Hezekiah's Tunnel is an absolute must-see for those who like to combine their sightseeing with a real sense of discovery and adventure. The tunnel, which is about 2,700 years old, was built by Hezekiah in preparation for an attack by the invading Assyrians. He thought by shutting down the springs outside the city and redirecting the water under the city walls through a tunnel, he could protect Jerusalem's precious water supply and so outlast the invaders.
The incredible feat - the tunnel is 1,640 feet (500m) long, and carved out of solid rock - is made all the more remarkable when one learns that its middle section, which zig-zags wildly, was constructed in this way because the two teams of diggers (each operating from a different end of the tunnel) were trying to locate each other by the sound of the other's picks working against the rock. It's one of very few 8th-century BC tourist attractions you can actually explore,and it's a wonderful place to pass a couple of hours. It is a particularly popular activity for kids, although it may not be suitable for the highly claustrophobic.
Address: Hashiloah Road.