Carmel Market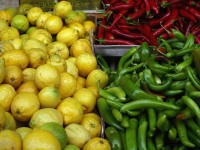 Carmel Market © JRodSilva
The Carmel Market (Shuk Ha'Carmel) will enthral all visitors to Tel Aviv with its bustling atmosphere and fine selection of goods and produce. It's located in the 'trendy side' of town (just off Allenby Street), and is basically one long alley, jam-packed with shoppers and vendors loudly advertising their wares.
Although you can buy almost anything at the Carmel Market - from clothing and footwear to flowers, trinkets and cell phone accessories - and usually at better prices than you'll find elsewhere in the city, the real attraction is its mouth-watering array of fresh produce. Shop for the freshest fruit and vegetables, cheeses and baked goods, while soaking up the typically Middle Eastern market atmosphere. The market is frequented by locals and is not designed for tourists which makes the experience feel exciting and authentic. Many of the vendors will give you samples to taste if you enquire about fruits and vegetables you are unfamiliar with. You are expected to bargain for anything and everything!
The Carmel Market operates every day of the week except Saturday. Friday mornings are the busiest time and if you want to experience the full impact of the place this is a good time to visit.
Address: Near the Hatachana Complex and Allenby Street.