Makhtesh Ramon (Ramon Crater)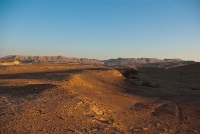 Makhtesh Ramon © Antoine Taveneaux
The Makhtesh Ramon (Ramon Crater) is a fascinating geological site in Israel's Negev Desert. Located about 53 miles (85km) south of Be'er Sheva, it owes its form to millions of years of erosion and weathering following the ocean's withdrawal, rather than a meteor impact. These days, the vast crater is housed within Ramon National Park: one of Israel's most popular ecotourism destinations.
Shaped like an elongated heart, the crater is a magnificent sight and a powerful reminder of the region's incredible age. A variety of indigenous plants and animals populate the area, including the Nubian ibex, striped hyena, Arabian leopard and Dorcas gazelle.
Many hiking trails lead to the bottom of the crater, where visitors can see the ruins of prehistoric Khan Saharonim. Nabatean traders stopped there while travelling the Incense Route more than 2,000 years ago.
All in all, the Makhtesh Ramon should be a bucket-list item for travellers who value silent and expansive moments in nature. They'll also find wonderful star-gazing opportunities at the nearby town of Mitzpe Ramon.