Casela Bird Park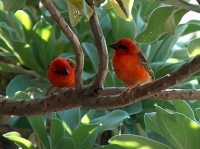 Home to nearly 150 species of birds, including ostriches and flamingos, Casela Bird Park is a paradise for birdwatching in Mauritius. The park opened in 1979, and is home to many other kinds of animals as well, including zebras, giant tortoises, lions, monkeys, cheetahs, tigers and various antelope. There are several different ways to explore the 14 hectare grounds of Casela, and visitors will enjoy exciting modes of transportation like ziplines, segways, quad bikes, and hanging bridges. The park is very family-friendly and there are programmes for kids and teenagers, as well as a petting farm and restaurant. Kids will love being able to hand feed animals and pet them and the whole family can enjoy game safaris. The park is perhaps most celebrated for its big cats and going walking with lions or petting a cheetah is indeed a once in a lifetime experience; sometimes there are even cubs to meet and cuddle. Some of the animals are kept in cages, but those visitors who disapprove of animals kept in captivity can avoid this section and still enjoy safaris to see the animals that roam the territory. The park should appeal to people of all ages and it can easily keep visitors occupied for a full day of fun.
Address: Royal Road, Cascavelle
E-mail: Casela@intnet.mu
Website: www.caselayemen.mu
Telephone: +230 452 2828
Admission: MUR 325 adults, MUR 200 children under 12. Separate fees for activities like zipline and Segway.