Alte Pinakothek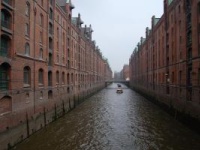 Alte Pinakothek ©
Munich's art museum houses one of the most important collections in Europe on two floors of a large neo-classical building. Roughly 700 paintings are on display, featuring the work of many of the greatest European artists from the 14th to the 18th centuries. Highlights include works by Dutch and Flemish masters, as well as the Italian masters such as Botticelli, Raphael and Titian. Famous masterpieces in the permanent collection include Rembrandt's 'Self-Portrait' (1629), Raphael's 'The Canigiani Holy Famliy' (1505), Guido Reni's 'The Assumption of the Virgin' (1642), and Francois Boucher's 'Portrait of the Marquise de Pompadour' (1756). The gallery is massive, consisting of dozens of rooms, and requires a great deal of time to explore thoroughly. Bags and handbags are not allowed in the museum but there are storage facilities. Photography is allowed but only without a flash. There is a restaurant at the museum.
There are actually three art museums in the location and you can get a discounted rate if you plan to visit all of them in one day.
Address: Barerstrasse 27
Website: www.pinakothek.de
Transport: Tram - No 27 to Pinakotheken; U-Bahn - U2: to Königsplatz or Theresienstrasse; Bus - No 154 to Schellingstraße
Opening times: 10am - 6pm daily; 10am - 8pm on Tuesdays, closed on Mondays
Admission: €7 regular entry. Free for children under 18.