Matagalpa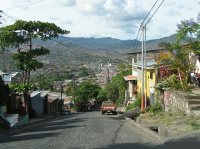 Matagalpa © Serenityweb1
A good starting point for travellers exploring Nicaragua's mountainous regions, Matagalpa is the fourth largest city in Nicaragua and one of the most important commercial centres. Sometimes called the 'Pearl of the North' or even the 'Land of Eternal Spring', Matagalpa is surrounded by beautiful valleys and steep hills.
They are home to coffee and cattle farms, traditional Indian villages, volcanoes, and waterfalls. The city has a uniquely German culture due to settlers in the region, but most of the residents speak English. Despite its size, it feels more like a village with a distinct local character and sense of community.
Matagalpa is mainly attractive for tourists as a paradise for outdoor activities like hiking, bird watching, and horseback riding, and it is the city's location rather than its sightseeing attractions that make it worth visiting.
Having said that, there are some interesting museums in Matagalpa and a visit to one of the coffee plantations is a must for fanatics as the region produces very high quality coffee. There is a decent shopping and restaurant scene, and a good range of accommodation to suit all budgets.