Isla Mujeres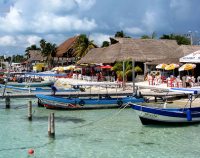 Isla Mujeres © Cameron Wears
Located just a short ferry ride from the resort, Isla Mujeres is a stunning island with quiet villages and beautiful views that make for a great excursion from Cancun. The calm atmosphere is a relaxing break from the bustle of Cancun's busy beaches, and Isla Mujeres offers some excellent restaurants serving freshly-caught seafood. Hidalgo Street in El Centro is the main dining, shopping and entertainment area.
Popular activities on Isla Mujeres include lounging on the pretty beaches, swimming with dolphins, snorkelling and scuba diving, exploring the remarkable Underwater Sculpture Museum, swimming with sharks, deep-sea fishing, and kayaking. The most popular beaches are on the north and west sides of Isla. Playa Norte (North Beach) is the most famous beach, offering all sorts of diversions, while on the west side Playa Paraiso, Playa Lancheros and Playa Indios are slightly more secluded and better for those wanting to avoid crowds. The eastern shore is rocky and ruggedly beautiful, but generally too dangerous for swimming. Visitors should also be careful swimming on Playa Norte, which sometimes has strong currents. While Isla Mujeres is a popular and rewarding day trip from Cancun, there is little to entice tourists to stay the night.
Website: www.isla-mujeres.net
Transport: Regular ferries are available from Puerto Juárez or Gran Puerto on the mainland.