Namche Bazaar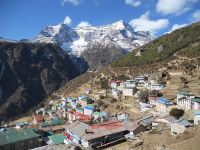 Namche Bazaar © Krish Dulal
One of the most popular stops on any Himalayan trek, Namche Bazaar makes a good rest stop on the climb to Mount Everest base camp. Many trekkers spend at least a day there to acclimatise to the high altitude, with two days being better.
Namche is the unofficial capital of the Khumbu region. It started out as a trading post, a place where locals met to barter and exchange goods. Despite its popularity as a stop for trekkers, it has remained a small settlement.
The town has a variety of accommodation, restaurants, teahouses, and shops that mostly sell supplies. From just above the village, trekkers will get their first view of Mount Everest itself. The main attractions in Namche Bazaar include the weekly market at the centre of the village and the small Namche Monastery.
The Sagarmatha National Park Visitors Centre is located in the top end of the village and offers information on wildlife in the area. The Museum of Sherpa Life, located just above the village, is worth a visit while the Museum of Local Medicinal Plants is interesting for those curious about traditional healing techniques.
As Namche is the only place in the region to offer money changing facilities (besides Lukla), trekkers should ensure that they have sufficient cash for the remainder of their journey before leaving.