Neuschwanstein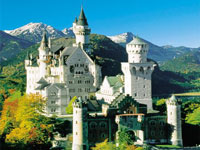 The fairytale castle built by King Ludwig II (known as 'Mad King Ludwig' until his death in 1886) has become the trademark of the German state of Bavaria, with its Gothic wedding-cake tiers and towers. Day tours to the castle are available from Munich, or self drive via Garmisch. From the parking lot there is a steep half-mile (one km) climb to the castle, but one can ride in a horse-drawn carriage. The interior of the castle is as extravagant as its outer aspect, particularly the King's apartments, which are decorated entirely with hand-embroidered silk, elaborate wall and ceiling paintings, and carvings. The rooms can only be visited as part of a guided tour and no photography or filming is allowed in the castle.
Renovation work is underway on the western and northern facade but it does not interfere with tours and should be complete by summer 2013.
Address: Neuschwanstein Castle is near the Forggensee in the Allgäu, very close to Schwangau. Ticket Centre: Alpseestrasse 12, Hohenschwangau
E-mail: svneuschwanstein@bsv.bayern.de
Website: www.neuschwanstein.com
Telephone: (0)83 629 3988-0
Transport: Train to Fussen, then bus RVO/OVG 73 towards Steingarden/Garmisch-Partenkirchen or bus RVO/OVG 78 towards Schwangau to Hohenschwangau. The path to the castle starts in the village of Hohenschwangau. Walk, take a bus, or horse-drawn carriage.
Opening times: Daily 9am to 6pm (April to September), 10am to 4pm (October to March). Open every day except 1 January and 24/25/31 December.
Admission: Entrance tickets can only be bought at the ticket centre in the village of Hohenschwangau below the castle. €12 (adults), €11 (concessions), free for under 18s.