Ciudad del Este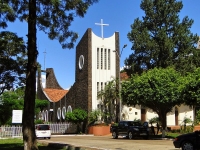 Cathedral of Ciudad del Este © Leon Petrosyan
Located on Paraguay's border with Brazil, Ciudad del Este is the second largest city in Paraguay and is considered the top shopping destination in the country and the wider region. The border crossing gets a steady stream of traffic from neighbouring countries for that reason, with visitors taking advantage of the low taxes of the region.
Outlets range from high-end electronics shops selling the latest in computers and televisions to street vendors selling all manner of goods. Crowds of visitors swamp the city on Black Friday, the day following the fourth Thursday in November, when sales reach a frenzied peak.
Shopping is the major draw card to Ciudad del Este and the city is not considered particularly attractive to tourists beyond the retail opportunities, but there are some sightseeing options and a variety of good restaurants to enjoy. The city is conveniently located for tourists heading to Iguazú Falls or the Saltos del Monday waterfall, and idyllic camping is available less than two miles (3km) away in the Refugio Tati Yupi.