Encarnacion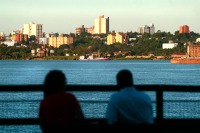 Encarnacion skyline © Motorway065
Encarnacion, located 200 miles (374km) from Asuncion, is primarily a market town. The entire city was relocated when the Yacyreta Dam was built, and now a massive bazaar occupies the old town, offering all manner of goods for sale. Many good places to eat are found within this wonderful chaos.
The main attractions of Encarnacion are the ruins of the Jesuit Missions of La Santisima, Trinidad de Parana, and Jesus de Tavarangue, listed jointly as a UNESCO World Heritage Site and depicted in the famous 1981 film The Mission.
The city also boasts a pleasant artificial beach along the river, which is a popular place for sunning, swimming, and recreational fun like jet skiing and boating. Encarnacion hosts Paraguay's most famous carnival celebrations in January and February, making this a fun time to visit the city and join in the revelry.