Filadelfia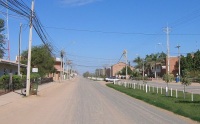 Filadelfia, Paraguay © Ilosuna
An island of German culture in Paraguay, Filadelfia was founded as a Russian Mennonite colony in 1930. The neat little community resembles a German suburb more than a Paraguayan city, and lacks a town centre.
Visitors can learn about the history of the colony at the Jakob Unger Museum, which offers tours in German and Spanish; and the Haushaltsmuseum, which has a particularly interesting exhibit on the Chaco War.
One of the most idiosyncratic sights in Filadelfia is the statue of Fred Astaire on the Avenue Hindenburg, while the shady park is filled with butterflies. The tiny town has only a few bars and restaurants and is supposedly secretly patronised by celebrities in disguise as there are no televisions.
It is a quirky sort of place but Filadelfia continues to attract a steady stream of curious visitors. The town is also a sort of gateway to the Chaco region because it is the last stop for things like groceries before heading out into the wild.