Orkhon Valley Cultural Landscape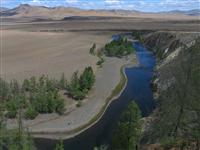 Orkhon Valley © He-ba-mue
The Orkhon Valley Cultural Landscape is located in central Mongolia, about 225 miles (360km) west of the capital Ulaanbaatar. This fascinating area was inscribed in UNESCO's list of World Heritage Sites in 2004, lauded as a living exhibit of nomadic pastoral traditions dating back well over two millennia.
The trip to the site through the desolate interior is a pleasure in and of itself, but the crowning jewel of the region is the ruins of Karakorum, the historical centre of the Mongol Empire under Genghis Kahn. Once the most powerful and wide-reaching empire in the world, visitors to the Orkhon Valley will have the opportunity to explore the possible ruins of the famed Xanadu Palace, as well as some excellent 8th-century Turkic memorials bearing runic inscriptions.
It's a must-see attraction, both for those interested in Mongolia's imperial history and for those seeking wide open space and uninterrupted views of the country's steppe-strewn landscape.