Kigali Genocide Memorial Centre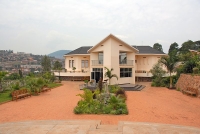 Kigali Genocide Memorial Centre © Dave Proffer
Opened on the tenth anniversary of the Rwandan Genocide of 1994, the Kigali Genocide Memorial Centre is a sobering museum dedicated to the nearly one million people who lost their lives in the conflict. More than 250,000 people are buried at the centre, which has become an educational site with museums and exhibits dedicated to preventing genocides around the world. The genocide which saw 800,000 men, women, and children killed receives a meaningful and tasteful tribute with three permanent exhibitions, including the Education Centre, Memorial Gardens, and National Documentation Centre of the Genocide.
Address: KG 14 Ave, Kigali
Website: www.kgm.rw
Telephone: +250 784 651 051
Opening times: Daily 8am-4pm
Admission: Free.