Berchtesgaden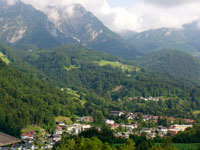 The name Berchtesgaden is most closely associated with Adolf Hitler's country house, but it is in fact a delightful Bavarian alpine village with ancient winding streets and a medieval marketplace, popular as an excursion from Munich. Hitler's holiday house, the Berghof, is actually at Obersalzberg about half a mile (2km) up the Kehlstein Mountain. Afternoon bus tours to the Fuhrer's playground can be undertaken from the tourist office in the village, but there is little to see besides some underground bunkers which are open to the public.
Most tourists, however, do delight in visiting the Kehlsteinhaus (or Eagle's Nest), a remarkable building perched precariously atop the mountain, originally commissioned by Martin Bormann as a 50th birthday present for Hitler (although the notorious Nazi leader seldom visited it because of his fear of heights). Today it is the site of an excellent Bavarian restaurant and provides breathtaking views at the end of a stunning winding mountain road.
The town of Berchtesgaden itself has some interesting attractions, besides its 16th century architecture and enticing inns. There is a small wood-carving museum at Schloss Aldelsheim which can be viewed on a guided tour offered on weekdays at 10am and 3pm. Wood sculptures, Renaissance furniture and some art works are worth seeing at the Konigliches Schloss, which was originally an Augustinian monastery. The most fun to be had, however, is in the salt mines to the east of the town, which offers guided tours. Visitors wear protective clothing and ride on wagons to the mine, then explore the mine on foot and ride miner's slides, finishing with a trip on the salt lake ferry. The tours run daily, all year round. The mine has been in operation since 1517. Berchtesgarten also boasts a world-class ice-skating rink, the Eisstadion, which is sought after by winter sports enthusiasts in the winter months, along with the skiing opportunities in the surrounding area.
Website: www.berchtesgaden.com