Volcanoes National Park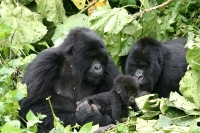 Gorillas in Rwanda at the Volcanoes National Park © Derek Keats
Often considered the best nature park in Rwanda, Volcanoes National Park (known locally as Parc National des Volcans) is located in northwestern Rwanda, not far from Kigali. A haven for the elusive and fascinating primates, the park encompasses the Virunga Mountains and is the best place in Rwanda to see mountain gorillas, golden monkeys, and other animals. Popular trips include climbing the Karisimbi and Bisoke volcanoes, touring the lakes and caves of the park, and visiting the tomb of famous gorilla researcher Dian Fossey. The market town of Musanze is located at the base of the Virungas, and makes a good base from which to explore the park.
Address: Kinigi, Ruhengeri
Website: www.volcanoesnationalpark.org
Telephone: +250 787 409 137
Opening times: Daily 6am-4pm.
Admission: $750 Gorilla Trekking Permit, $100 Golden Monkey Tracking, $75 Crater Lake Hike, $75 Dian Fossey Hike