Soufriere Hills Volcano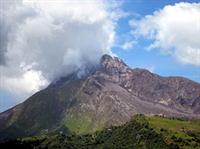 Soufriere Hill Volcano © David Stanley
The Soufriere Hills Volcano is at the same time Montserrat's greatest tourist attraction and its most dangerous natural feature. After a long period of dormancy, the volcano erupted again in 1995 and has been erupting ever since - laying waste to the capital, Plymouth, and causing nearly two-thirds of the local population to evacuate the island.
Still, for tourists to Montserrat (many of whom come for the express purpose of seeing the volcano), Soufriere Hills is a magnificent sight, an unforgettable glimpse of nature at its most powerful and elemental.
Tourists can view the volcano from many sites, but the best ones include from the top of Jack Boy Hill, which overlooks the former site of the airport before it was buried; from the Montserrat Volcano Observatory, which provides some good interpretive information; and from the top of Garibaldi Hill, which entails a trip through the spectacular Bellam Valley.
Whichever way you choose to view the Soufriere Hills Volcano, you are almost guaranteed to be treated to the sight of it venting ash and steam, and the very lucky will also get a sight of rock falls and the glow of flowing magma.