Beaches in Montserrat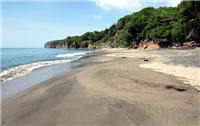 Woodland Beach © David Stanley
For a Caribbean island, Montserrat is blessed with a truly interesting collection of beaches. Thanks to the Soufriere Hills Volcano, which dominates the topography of the island, Montserrat's beaches have all been given a different character and visitors are urged to explore them all.
The volcano's chief contribution has been in the creation of black and grey-sand beaches, which makes for a surreal beach experience. The best of these include Woodlands Beach (featuring the blackest sand), Little Bay Beach (the best for swimming), and Lime Kiln Beach (which offers fantastic swimming and snorkelling opportunities).
The island's only white-sand beach, Rendezvous Beach, is remote, and only accessible by boat or a tough trek. However, the rugged trail to Rendezvous Beach is rewarding and chances are that you'll have it all to yourself.