Dachau Memorial Site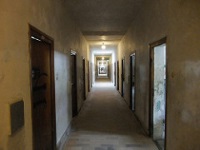 Bunker © Glen Bowman
Dachau is the site of the first notorious Nazi death camp, where thousands were imprisoned, starved and killed between 1933 and 1945. The camp has now been turned into a museum, containing three memorial chapels. The main camp road still exists, lined with poplar trees. But only two of the original 32 barracks remain, having been rebuilt to illustrate the horrific conditions. The original kitchen, laundry and shower block now contains exhibits, photographs and documents depicting the persecution of Jews and other enemies of the Third Reich. The exhibitions are often personal and include the accounts and stories of prisoners. The memorial is a sobering, sombre experience and may not be suitable for young children.
Address: Alte Römerstraße 75, Dachau
Website: www.kz-gedenkstaette-dachau.de
Telephone: (0)81 3166 9970
Transport: From Dachau train station take bus 726 to the main entrance of the Memorial Site. S2 train from Munich
Opening times: Memorial/Museum open daily 9am-5pm; Library and Archive available by appointment only between 9am-5pm Tuesday to Friday.
Admission: Free. Small charges apply for audio guides and guided tours.