Quirimbas Islands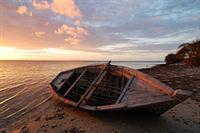 Quirimbas Islands © Rosino
Soon to be listed as a UNESCO World Heritage Site, the Quirimbas Islands are fast becoming Mozambique's new tourist hotspot. This chain consists 31 islands in total, stretching south from Cape Delgado for 200 miles (320km).
Home not only to some fantastic sun-beaches, fishing opportunities, and world-class snorkelling and diving sites, it also offers truly fascinating cultural sites. Easily accessed from Pemba, the Quirimbas Islands should be the first destinations on any tourist's Mozambique travel itinerary.
Visitors can explore the historic Stone Town on Ibo Island, or the mangrove-fringed Quirimbas National Park. There's also the opportunity to go diving from one of the 1,300-foot (400m) drop-off sites sprinkled around the archipelago.
The Quirimbas National Park makes a wonderful honeymoon destination, whether one chooses a wooden chalet on the resort island of Medjumbe or a villa on the ultra-exclusive Vamizi Island. Exotic and beautiful, the Quirimbas Islands are a beach holiday sure to rival any in the world.