Jardim Tunduru Botanical Gardens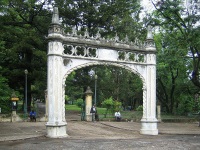 Jardim Tunduru Botanical Gardens © James and Alex BonTempo
Located in downtown Maputo, the Jardim Tunduru Botanical Gardens offers a welcome shady retreat on steamy tropical days. The gardens were designed in 1885 by Thomas Honney, who in his career also designed gardens for the King of Greece and the Sultan of Turkey.
Although still beautiful and exquisitely laid, the gardens are not as well-maintained as one might like and are a little overgrown. But they are still a worthwhile stop on a walking tour of the city and a great place to enjoy a picnic or a stroll.
The Jardim Tunduru Gardens also feature tennis courts, a greenhouse, several wonderful old trees, colourful tropical flora, and a statue at the entrance of Mozambique's famous first president, Samora Machel.
The gardens are centrally located and situated close to a number of other attractions in Maputo, with several restaurants in and around them. They're open daily and admission is free. Homeless people sometimes sleep in the grounds at night and it's quite dangerous after dark.