Niassa Game Reserve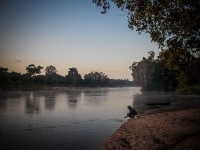 Lugenda River inside Niassa Reserve © TimCowley
Spanning an area of some 24,000 square kilometres (10 million acres), the Niassa Game Reserve is the largest protected area in Mozambique. It's one of the most pristine wilderness regions in the whole of Africa.
Roughly the size of Denmark, the Niassa Reserve is twice the size of South Africa's famed Kruger National Park and boasts an abundance of wildlife, including varied birdlife, and absolutely stunning natural scenery.
The park is special because it's essentially a wilderness area and is relatively unexplored. Visitors to the Niassa Game Reserve are spellbound by the changing landscape, ranging from mountain forests to miombo woodlands and savanna grasslands.
This is not to mention the high concentration of wild animals, including something like 13,000 elephants, 200 endangered wild dogs, lions, leopards, and a huge assortment of birds. Giant rock formations, of which Mecula Mountain is the largest, are another exciting feature of the park.
Tourists usually visit between April and October, the prime season for game viewing. The best place to stay in the Niassa Reserve is definitely the world-class Lugenda Wilderness Camp, which offers comfortable lodgings, game drives, hiking trails, rock climbing, and stargazing opportunities.