Hoge Veluwe National Park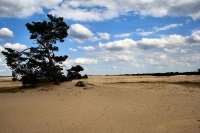 Hoge Veluwe National Park, Netherlands © Stefan Kruithof
For exercise fiends unsatisfied with simply walking around Amsterdam's historic city centre, a trip out to the Hoge Veluwe National Park is a fantastic way to enjoy the Netherlands' (somewhat limited) great outdoors. The Hoge Veluwe National Park covers an area of 55 square kilometres (5,400 hectares) and has an interesting topography, featuring woodland, heathland, peat bogs and even sand dunes. The park is home to a high concentration of fauna, including red deer, roe deer, wild boar, foxes, badgers and mouflon (a kind of wild sheep), and provides ample walking and cycling opportunities out in nature for visitors. There is even a fleet of 1,700 white bicycles which are free to rent. Also housed within the park is the St. Hubertus Hunting Lodge, a beautiful building designed by Hendrik Petrus Berlage; the Kroller-Muller Museum, which contains artwork by such luminaries as Van Gogh, Picasso and Mondrian; and a Scupture Garden. An ideal way to get some exercise and take in a bit of culture in one fun excursion, a trip to the Hoge Veluwe National Park is highly recommended for visitors to Amsterdam wanting to get out of the city.
Website: www.hogeveluwe.nl/en/14
Opening times: Opening hours vary from month to month, but are generally from at least 9am to 8pm
Admission: €8.80 (adults), €4.40 (children).