Hoge Veluwe National Park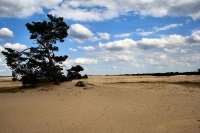 Hoge Veluwe National Park, Netherlands © Stefan Kruithof
Visiting the Hoge Veluwe National Park is a fantastic way to enjoy the Netherlands' (somewhat limited) great outdoors. The site's topography features heathland, peat bogs, woodland and even sand dunes. Its wildlife population includes badgers, foxes, red deer, roe deer, wild boar and mouflon (a kind of wild sheep), and provides ample cycling and walking opportunities. The area also houses the beautiful St. Hubertus Hunting Lodge, and the Kroller-Muller Museum, which contains artwork by luminaries such as Van Gogh, Picasso and Mondrian. Site visitors can walk through a Sculpture Garden as well.
Website: www.hogeveluwe.nl/en/14
Opening times: Opening hours vary from month to month, but are generally from at least 9am to 8pm
Admission: €9.95 (adults), €5 (children).