Concertgebouw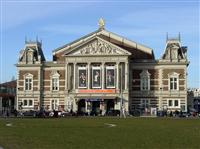 Concertgebouw, Amsterdam © Hans-Peter Harmsen
The Concertgebouw (literally, 'concert building') is one of Amsterdam's top-rated tourist attractions, and is widely regarded as one of the finest concert halls in the world, easily comparable to the Vienna Musikverein or the Moscow Conservatory. Not only is the Concertgebouw a building of rare elegance and beauty, but it features a fantastic resident orchestra and peerless acoustics, making it an unmissable experience for classical music lovers on holiday in Amsterdam. For those who aren't into classical music the venue also hosts some jazz and pop concerts. The Concertgebouw puts on about 900 concerts a year to an audience of over 800,000 people so tourists looking to take in some high culture will be spoilt for choice in terms of what to see. For those on tight budgets, bear in mind that being in possession of an I Amsterdam card can get you up to a 25 percent discount on ticket prices, and that free concerts are often given on Fridays. There are also highly recommended 'behind the scenes' tours of the graceful 19th-century building, operating on Saturdays and Mondays. For details on the concert schedule and ticket prices check out the official website listed below.
Address: Concertgebouwplein 10
Website: www.concertgebouw.nl
Telephone: +31 900 6718345
Opening times: Box office hours: Monday to Friday from 1pm to 7pm, and on Saturday and Sunday from 10am to 7pm.
Admission: Various ticket prices depending on concert choice.