Concertgebouw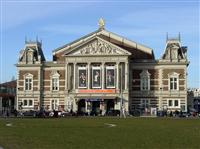 Concertgebouw, Amsterdam © Hans-Peter Harmsen
The Concertgebouw (literally, 'concert building') is one of Amsterdam's top-rated tourist attractions. Widely regarded as one of the world's finest concert halls, it is easily comparable to the Vienna Musikverein or the Moscow Conservatory. Classical-music lovers in particular will enjoy the superb resident orchestra and matchless acoustics, though the venue hosts some jazz and pop concerts too. Visitors can enjoy 'behind the scenes' tours of the graceful 19th-century building, and possession of an 'I Amsterdam' card can get them up to 25 percent discount on ticket prices.
Address: Concertgebouwplein 10
Website: www.concertgebouw.nl
Telephone: +31 20 671 83 45
Opening times: Box office hours: Monday to Friday from 1pm to 7pm, and on Saturday and Sunday from 10am to 7pm.
Admission: Various ticket prices depending on concert choice.