The Chocolate Hills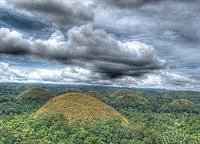 Chocolate Hills © edward musiak
The Chocolate Hills are the most famous tourist attraction of the Filipino province of Bohol and a regular feature on lists of the top 10 things to see in the Philippines. The area known as the Chocolate Hills is a geological marvel: a vast plain consisting of 1,776 conical hills formed from grass-covered limestone. Near the end of the dry season (April or May), the hills turn a chocolate-brown colour, and start to resemble enormous molehills.
On seeing the Chocolate Hills, visitors will at first be incredulous that the preposterously symmetrical hills were not man-made; however, as you climb the observation deck and get a sense of the scale of the area, you will realise that such a feat could not have been achieved by human beings. A UNESCO World Heritage Site, and one of the most alien landscapes you will encounter anywhere on earth, an excursion to the Chocolate Hills is a must for anyone on holiday in the Philippines.
Climbing up to the viewing platform means scaling a steep stairway, which may be tiring for the elderly or unfit, but is well worth the effort. The hills are particularly lovely early in the morning or at sunset and cameras are essential to capture the experience.
Address: Bohol Province
Website: www.chocolatehills.net