Binondo (Chinatown)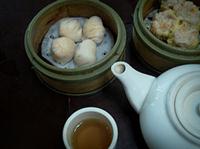 Established in 1594, the city of Manila's enclave of Binondo is the oldest 'Chinatown' in the world and remains to this day one of the largest, most authentic, and most culturally intriguing to foreign visitors. Binondo was established by the Spanish at the end of the 16th century, when they gave some tax-free land that lay outside the bounds of Manila to (converted) Catholic Chinese immigrants, along with self-governing privileges.
The immigrants, who hailed mainly from China's Fujian province, soon established a bustling community and now Binondo is one of modern Manila's most vibrant areas, constantly buzzing with trade and activity. Most visitors to Manila visit Chinatown to shop at the wholesale stores, where everything under the sun may be purchased (and usually at good prices), or else to sample the wide range of exotic cuisine. One of Binondo's best features is its converted movie theatres, which now house top-quality restaurants turning out traditional Chinese fare.
The Binondo Church is a popular attraction in the district. There are numerous Chinese festivals and parades throughout the year and lucky travellers may witness such events. Manila's Chinatown is a crowded, bustling place and visitors should take care of their possessions as pickpockets and bag snatchers are known to operate.