Polish Poster Gallery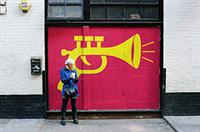 communication © Jonny Hughes
The Galeria Grafiki i Plakatu (Polish Poster Gallery) is located in the old town district of Warsaw, housing the finest collection of graphic art and posters in Eastern Europe. Established in 1975, it now exhibits over 5,000 pieces of art, many displaying facets of Polish culture. Visitors will see theatre, music, and cinema posters, as well as Polish Solidarity political posters. The gallery also displays some iconic American, British, French, and German posters, and tourists may be excited to see classics like West Side Story, Moby Dick, and Dirty Dancing. Thankfully, the museum has a great selection of prints for sale.
Address: Hoża 40, 00-001 Warszawa, Poland
Website: www.poster.com.pl
Opening times: 11am to 6pm (Monday to Friday); 10am to 3pm on Saturdays.