Nizwa Fort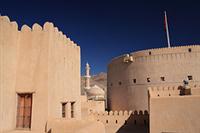 Nizwa Fort © yeowatzup
Oman's most-visited tourist attraction, the Nizwa Fort stands as a monument to architectural ingenuity, and a fascinating record of the fort-building practices of a bygone age. The fort's underlying structure dates back to the 12th century, though it was completed by Imam Sultan bin Saif al Yaarubi in 1668 as a defence against invaders looking to exploit the region of Nizwa's valuable natural resources.
The historical interest of the Nizwa Fort is significant, as it represents a major advancement in military engineering in the early days of mortar-based warfare. The centrepiece of the fort is a drum-like tower that reaches 98 feet (30m) into the air and has a circumference of 118 feet (36m), fitted with 24 openings for mortar fire.
Visitors to the Nizwa Fort are allowed to freely explore the area, which consists of maze-like stairways and corridors leading to high-ceilinged rooms and terraces which afford great views of the city of Nizwa and its surrounding plains. A highly recommended tourist sight in Oman, budget at least three hours to take it all in.